Filter Coffee
Filter coffee is the perfect way to experience new and interesting single origins. The mouthfeel of filter coffee is more delicate and nuanced than espresso coffee and it really makes the flavour profiles of singles shine. We roast and release fresh filters each week.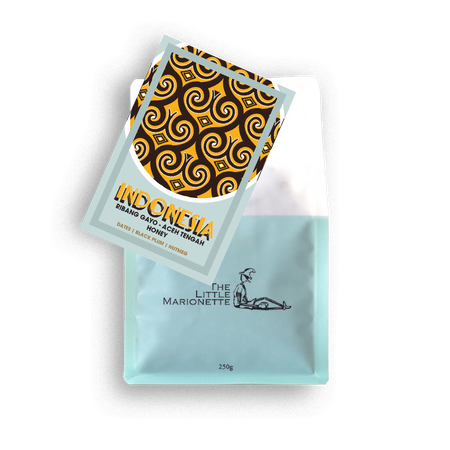 Cranberry, Strawberry, Cooked Apple
$18.00
Being a lighter roast, filter is less intense than espresso and the flavours are more detailed and delicate. You can drink filter coffee with milk but we prefer it black, so you really get the full flavour experience.
Filter coffee brewing involves pouring hot water over ground coffee beans. The two most common brew methods for filter coffee are pourover and batch brew. Our brew guides have a great step by step guide on how to make filter coffee.  We cover the most popular filter coffee machines in this guide including V60, Chemex and AeroPress.
We roast a different single origin filter coffee each week and we like to mix it up between natural and washed. All Little Marionette single origin coffee beans are roasted at our warehouse in Rozelle in Sydney's Inner West. We offer free pickup on all orders so please drop by and we'll make you a coffee in our warehouse café. We also offer free domestic shipping when you spend $50 or more.
Using only the best beans, our filter coffee is roasted, ground, and packaged fresh to ensure maximum flavour. As with all our coffees, it is best enjoyed within 30 days. For maximum freshness store your beans in an airtight or vacuum sealed container.
If you find yourself constantly running out of filter coffee, we suggest you get one of our coffee bean subscriptions. Choose between a weekly, fortnightly, or monthly coffee subscription. No need to worry about re-ordering, the coffee will keep on coming directly to your door.
Read