V60 Drip Kettle | Hario Buono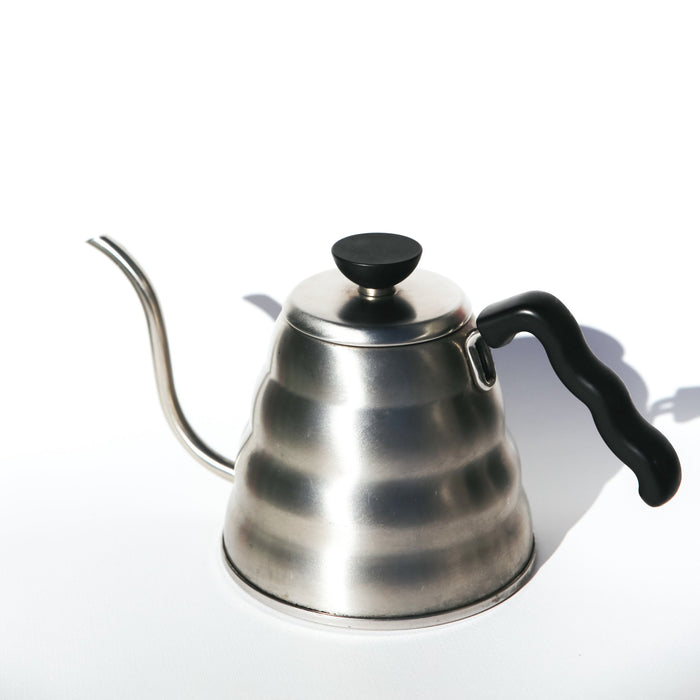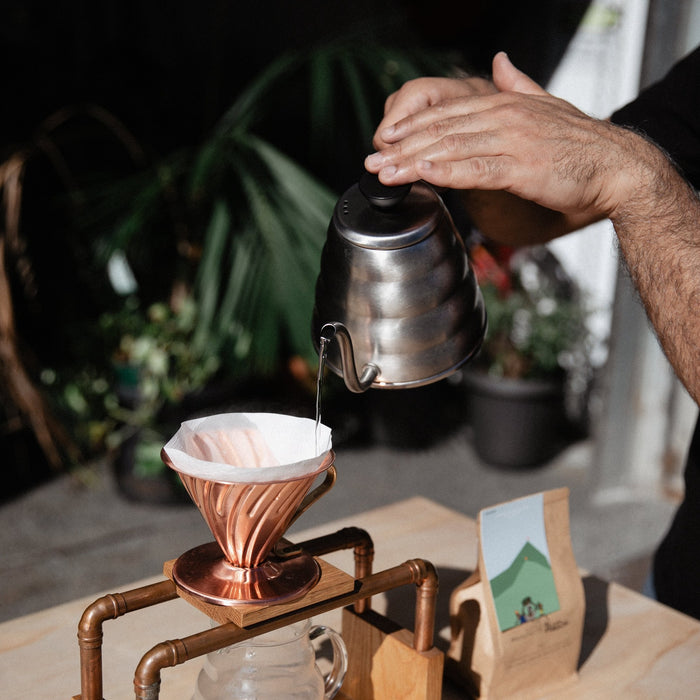 The Hario Buono V60 Gooseneck Kettle looks great, feels great and pours water like no other kettle in the world!
Brew large batches of pour over coffee with the Hario Buono Kettle 1200ml. Featuring a gooseneck spout, this kettle enables you to pour with unrivalled control over the water placement and speed, which ultimately leads to more a balanced coffee.
The kettle's ergonomic handle makes pouring water slowly a comfortable activity, even when the kettle is completely full. This helps you keep from getting tired when you make big batches or accidentally add too much water to the kettle for a smaller brew.
Built with durable stainless steel, this kettle is compatible with all stove types (including induction) and will last for years.
Hario Buono V60 Kettle features
Ultimate Pouring Control – Gooseneck spout enables you to pour exactly where you want at the exact speed you want, giving you the control and consistency needed to brew balanced coffee.
Large 1.2L Capacity – Boil water for a big brew or multiple smaller brews in a single kettle.
Use Any Stovetop – Compatible with all stovetop types, including induction.
Ergonomic Handle – Carefully designed to make pouring water a comfortable activity, even when the kettle is full.
Stainless Steel Body – Nearly indestructible and stylish in any kitchen.
Basic Hario Buono V60 Kettle instructions
Measure the water you need to brew and pour it into the kettle.
Place the kettle on your stove at a medium-high setting.
When the water reaches near-boiling take it off the heat.
Pour water for pour over coffee with unrivalled control.
To get the best out of your Hario Buono V60 Drip Kettle and freshly roasted The Little Marionette coffee beans check out our online brew guides. 
If you constantly find yourself running out of coffee, check out our coffee subscriptions and have your favourite beans delivered directly to your door.
Read