Barista Course
The Little Marionette Barista and Coffee Training Courses are run at our roastery in Rozelle in Sydney's Inner West. Whether you'd like to impress family and friends on your home coffee machine, brush up on your coffee knowledge or become the best barista in the business – we're here to help.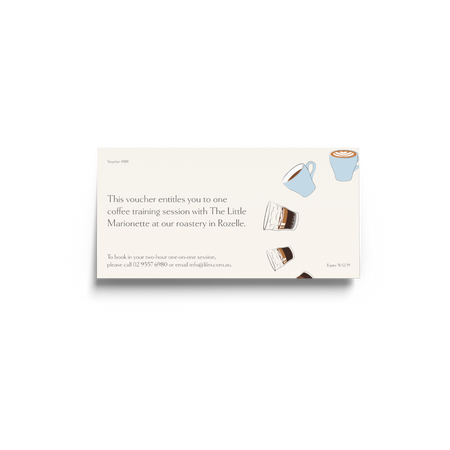 Our Sydney barista course is an intensive, 2-hour hands on session. Under the expert guidance of our experienced coffee mentors, you'll learn the ins and outs of grinding, dosing and extracting coffee, milk texturing and pouring. From understanding the origins of coffee, the flavour profiles of different blends and the different methods available to bring coffee to life, you'll be perfecting espressos in no time.
Book your voucher online today and one of our friendly team will be in touch to schedule in your training. If you've got questions, would like to learn more about the ins-and-outs, or for bookings for larger groups and businesses please contact us.
Read